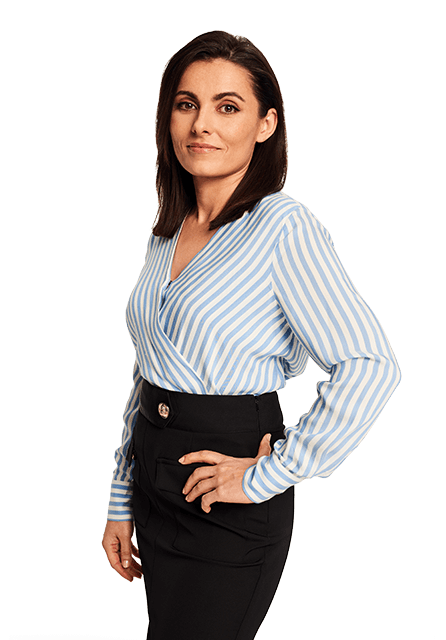 What do I specialize in?
Intellectual property
Labour Law
Unfair competition
Personal data
Advocate / Partner
WTR 1000
Renata Bugiel specializes in intellectual property law, unfair competition practices, copyright and advertisement law. She has also experience in labour law. She is experienced in representing Clients before Polish courts in intellectual property and unfair competition litigation. Renata represents Clients in disputes before the Polish Patent Office and administrative courts. She has significant experience in representing trademarks owners in criminal litigation.
Renata advises many companies in the food and motor industry on protection of intellectual property.
She represents both Polish and international entrepreneurs in civil proceedings concerning the infringement of rights to trademarks, industrial designs and copyrights.
Renata handles cases concerning brand protection, represents entrepreneurs before the Polish Patent Office, administrative courts as well as the European Union Intellectual Property Office in proceedings regarding the registration of trademarks.
She provides on-going legal services to entities in the transport industry and production, in particular covering the matters of individual and collective labor law.
She prepares legal opinions regarding various aspects of intellectual property and protection of employees' personal data.
Author of publications in the field of civil procedure and intellectual property law. She conducts training programs and provides consultancy on personal data protection, in particular in the context of changes introduced by the GDPR.
She represents trademark owners in criminal litigation concerning the infringement of rights to trademarks.
She provides legal services in Polish and English.
TRADEMARKS
CLIENT: International organization, owner of a wide portfolio of trademarks.
PROJECT: Representing in numerous litigations before the Polish Patent Office, as well as in opposition proceedings against trademark applications.
TRADEMARKS PROTECTION
CLIENT: Manufacturers – the automotive industry.
PROJECT: Numerous civil and criminal cases regarding the infringement of trademarks, trading in accessories, equipment and spare parts with counterfeit trademarks.
INDUSTRIAL DESIGNS
CLIENT: Polish and international entities.
PROJECT: Advice on the preparation of contracts and settlements regarding industrial designs. Preparation of legal opinions

in particular on the assessment of the legitimacy of claims related to the protection of design rights, development of brand protection strategies. Representing Clients in civil proceedings related to infringement of design rights and in disputes before the Polish Patent Office.
ADVERTISING LAW
CLIENT: The well-known manufacturer from the FMCG industry.
PROJECT: Representing the Client in civil proceedings regarding the advertising of a foodstuff (allegation of misleading advertising).
COPYRIGHT
CLIENT: A film producer.
PROJECT: Representing the Client in civil proceedings for the prohibition of copyright infringement and compensation payment. Reviewing license agreements.