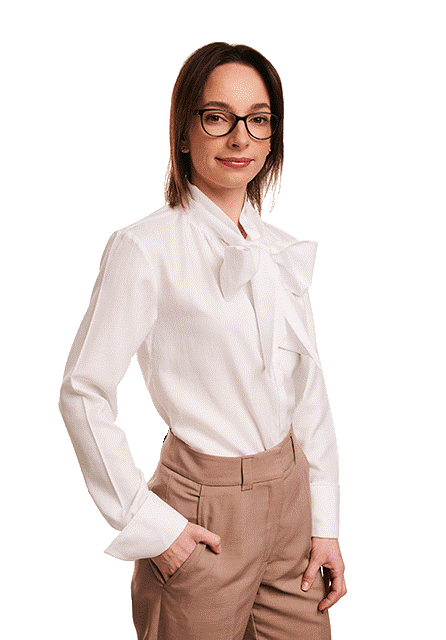 What do I specialize in?
Copyright law
Industrial property law
Combating unfair competition
Protection of personal rights
Labor law
Litigation and arbitration
Advocate
She specializes in intellectual property, including copyright law, industrial property law and combating unfair competition, as well as issues relating to the protection of personal rights. Katarzyna has advised entities operating in, among others, the clothing, film, creative and IT industries.
She also supports clients by advising them on labor law.
She conducted trainings on intellectual property for start-ups and a foundation promoting entrepreneurship among women.
In addition to holding a law degrees, she graduated from the faculty of International relations – specialization: "contemporary diplomacy".
As part of international programs, she also studied at the Universität Wien and Johann Wolfgang Goethe-Universität Frankfurt am Main.
Katarzyna was a participant of the Willem C.Vis Moot competition.
She is the author of a legal blog "Twórczo dla Twórców" ["Creative approach to Creators"] (https://tworczodlatworcow.pl/).
Katarzyna is a member of the Fashion Law Section and Industrial Property Law Section of District Bar Association in Warsaw [Polish: Okręgowa Rada Adwokacka], she is also a member of the Center for Design, Fashion and Advertising Law at the University of Silesia in Katowice.